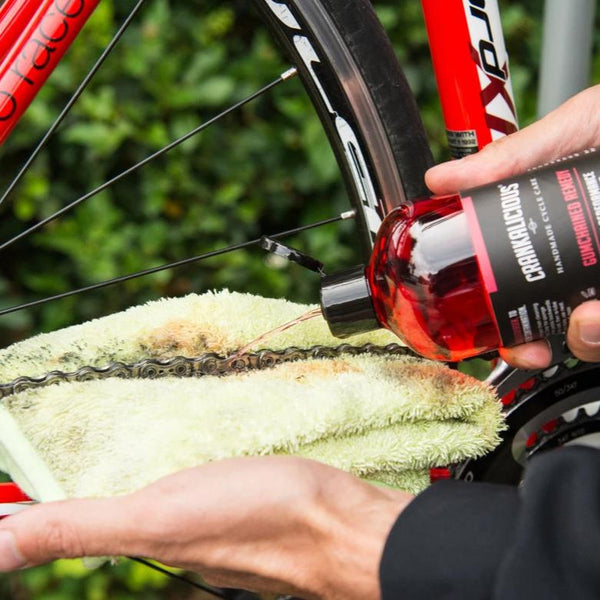 Gumchained Remedy chain cleaner 100ml - Trade Case (x12) - HS 340530
High performance chain cleaner/degreaser, to reduce chain friction caused by contamination. 
With everything your chain goes through, with all that gets thrown at it during a ride, you need a specially formulated chain cleaner to keep it at its best; the cleaner it is, the more efficient your chain will be. Gumchained Remedy is a strong solvent with superb penetrating properties to remove dirt, grime and old oil residues and sludge - making your chain almost as good as new. Suits direct or device application. Please note that you will need to re-lube your chain after using Gumchained Remedy.
Also available as a KWIPE; the Crankalicious quick wipe single use solution, here.
(Crankalicious have two degreasers available in their range; Gumchained Remedy and Limon Velo.  This short guide explains the difference between the two.)
Please note: closure/cap may differ from that shown.
Instructions: Pour Gumchained Remedy directly into your chain cleaning tool, or onto a chain cleaning sponge. Clasp the sponge or device around the chain and turn the pedals backwards for 30-60 seconds. Dry chain with clean cloth, then re-lube entire drivetrain.
Trade case of 12x100ml bottles (50% POR).
MSRP per unit inc taxes £4 / 5 EUR
Cost per unit ex taxes at 50% POR = £1.67