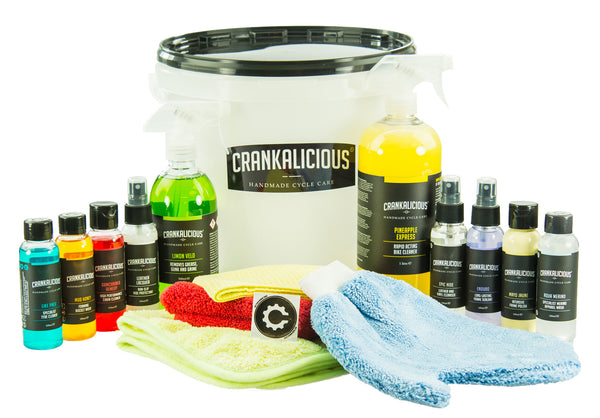 Road Kit
The Road Bike Kit
Key parts of our range that the road bike enthusiast will need. Specifically designed to enable a full clean, enhancement, and prolonged protection of even the most dirty of road bikes. With our Aqua Merino wool care also included, it even helps to clean those merino base layers and specialist tops.
-£89 worth of products-
Contains:
1 x Crankalicious Bucket 
1 x Madam Palm Wash Mitt
1 x Pineapple Express Spray Wash (1 litre)
1 x Mud Honey Bucket Wash (100ml)
1 x Limon Velo Degreaser (500ml)
1 x Mayo Jaune Frame Polish (100ml)
1 x Gumchained Remedy Chain Cleaner (100ml)
1 x Fur Rouge Buffing Cloth
1 x Soak Star Drying Cloth
1 x Chequered Rag Work Cloth
1 x Enduro Frame Sealant (100ml)
1 x Epic Hide Leather and Vinyl Cleanser (100ml)
1 x Leather Lacquer Hide Protectant (100ml)
1 x Like Pneu Tyre Cleaner (100ml)
1 x Aqua Merino Apparel Wash (100ml)
1 x Cell Foam chain cleaning sponge
Also contains 1 x Crankalicious waterproof sticker - a subtle version of our crank logo, for placing anywhere on your bike.
---