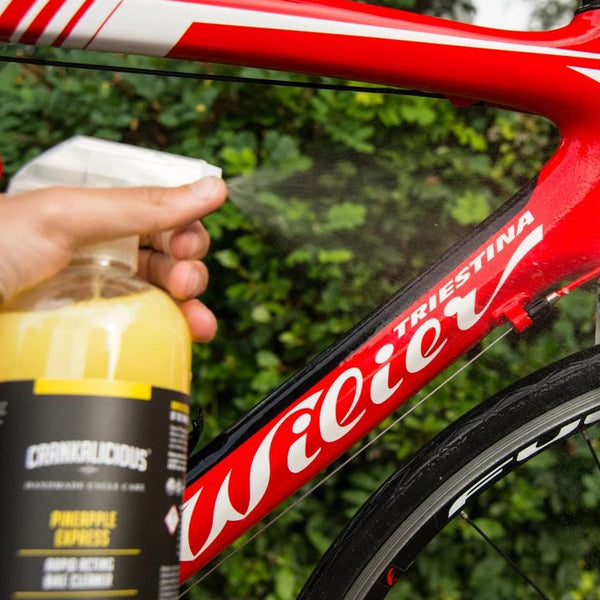 Pineapple Express spray wash 1 litre ready-to-go - Trade Case (x6) - HS 340530
Rapid acting spray wash for use on all areas of the frame, brakes and contact points.
Versatile, fast-acting and with a luscious tropical aroma, we think that Pineapple Express will soon become your 'go to' cleaner. Simply spray all over your bike, allow to dwell for a few minutes, agitate and rinse off. It's that easy... And with a 1 litre concentrate that makes 4 litres (more than a US gallon!) when you refill, it's also extremely economical.
Also available as a KWIPE; the Crankalicious quick wipe single use solution, here.
Instructions (ready-to-use spray bottle): Spray Pineapple Express liberally onto all areas of your bike. Allow to dwell for 2-3 minutes, then agitate with a brush, mitt or clean cloth. Rinse thoroughly with a low pressure water spray and dry frame/components as required.
Instructions (concentrate): Shake bottle. Dilute with water at 1:3, or pour 250ml of concentrate into a litre spray bottle and fill with water. Then use as per instructions for ready-to-use product, above.
Trade case of 6x1000ml bottles (50% POR).
Sent with transport caps and separate sprayheads. Put sprayheads onto bottles going onto the shelf in retail environments, otherwise send out with one sprayhead per bottle to mail order customers.
MSRP per unit inc taxes £12 / 14 EUR
Cost per unit ex taxes at 50% POR = £5